May 22, 2018 Primary runoffs for Republican US & State Reps, County Judge, Justice of the Peace, and Democratic Governor.
NOTE: Your ballot will vary based on your residence location!
Your ballot MIGHT look different than this one!
Polling locations are listed below
NOTE:
"Kaufman County is under a Court Order regarding early voting mail in ballots. Official 2018 Republican Primary Run-Off Election Mail-In Ballot Results will not be available until on/after May 24."
Forney Area Voters
(MOST voters will have these options; all sample ballots shown below)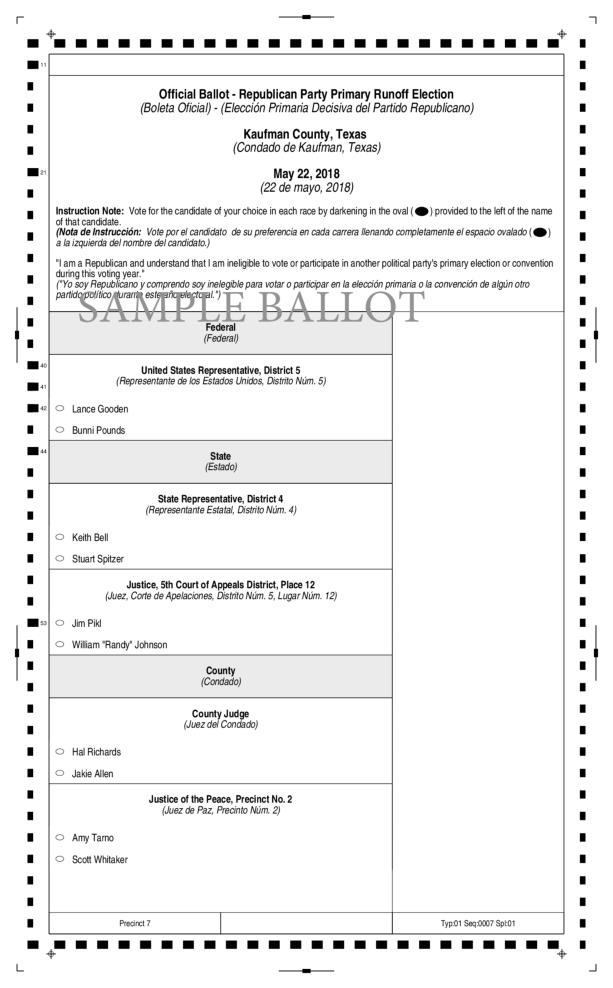 Rep. US Rep, District 5

Lance Gooden
Bunni Pounds

Rep. State Rep, District 4

Keith Bell
Stuart Spitzer

Rep. Justice 5th Court Appeals, Pl 12

Jim Pikl
William "Randy" Johnson

Rep. County Judge

Hal Richards
Jakie Allen

Rep. Justice of the Peace, Pct. 2

Amy Tarno
Scott Whitaker

---

Dem. Governor

Lupe Valdez
Andrew White






On May 22, 2018 these are the County Wide Consolidated Election Day Polling Places:

ABLES SPRINGS FIRE STATION            HEARTLAND CC
30000 FM 429                          6622 FM 741
TERRELL TX 75161                      HEARTLAND TX 75126

ABNER BAPTIST CHURCH                  KAUFMAN COUNTY LIBRARY
6877 FM 2727                          3790 S HOUSTON ST
KAUFMAN TX 75142                      KAUFMAN TX 75142

BETHLEHEM BAPTIST CHURCH              LIVLEY BAPTIST CHURCH
500 S FRANCES ST                      18075 S FM 148
TERRELL TX 75160                      KEMP TX 75143

CRANDALL/COMBINE CC                   MABANK CITY HALL
500 W LEWIS / FM 3039                 129 E MARKET ST
CRANDALL TX 75114                     MABANK TX 75147

DEVONSHIRE HOA                        MUSTANG CREEK CHURCH
1201 RAVENHILL RD                     13851 FM 548
FORNEY TX 75126                       FORNEY TX 75126

EMMANUEL BAPTIST CHURCH               SCURRY/ROSSER ADMIN BLDG
1717 N FRANCES ST                     10705 STATE HWY 34
TERRELL TX 75160                      SCURRY TX 75158

FIRST ASSEMBLY OF GOD CHURCH          ST ANNS CATHOLIC CHURCH
203 MAIN ST                           806 S WASHINGTON ST
TERRELL TX 75160                      KAUFMAN TX 75142

FIRST BAPTIST CHURCH, FORNEY          TALTY BAPTIST CHURCH
1003 FM 741                           5210 N FM 148
FORNEY TX 75126                       CRANDALL TX 75114

FIRST BAPTIST CHURCH KEMP             TERRELL SERVICE CENTER
1320 S ELM                            400 INDUSTRIAL BLVD
KEMP TX 75143                         TERRELL TX 75160

FORNEY SUB COURTHOUSE                 THE ELMO FIRE STATION
200 E MAIN ST                         12777 FM 2728
FORNEY TX 75126                       TERRELL TX 75160



Early Voting -

All 3 sub-courthouses: May 14 - 18 (Mon-Fri), 8A - 5P with extended hours 7A - 7P on Fri May 18.

Kaufman Courthouse Annex: May 14 - 18 (Mon-Fri), 7A - 7P

Locations: 
      1. Kaufman County Courthouse Annex 
         100 N. Washington St.  
         Kaufman, TX 75142       
      2. Forney Sub Courthouse
         200 E. Main St.
         Forney, TX 75126
      3. Terrell Sub Courthouse
          408 E. College St
          Terrell, TX 75160
      4. Kemp Sub Courthouse
         103 N. Main St.
         Kemp, TX 75143


Voting by Mail: Mail-in ballots should be sent to the address below.

Brenda Samples
Early Voting Clerk
Kaufman County Courthouse Annex
P.O. Box 339
Kaufman, Texas 75142